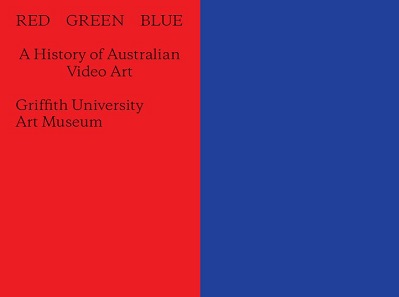 Red Green Blue: A History of Australian Video Art
Red Green Blue: A History of Australian Video Art brought together more than 60 works from the 1970s through to the present day, highlighting the many possibilities offered by the medium, in terms of form, content and interaction with other disciplines. Artworks drawn from archives, artist holdings and the Griffith University Art Collection shows a historical journey that is also a celebration of the ongoing dynamism and depth of Australian video art practice.
ISBN – 978-1-925455-49-6
Australiana to Zeitgeist: An A-Z of Contemporary Australian Art
Utopian Slumps is pleased to announce the release of Australiana to Zeitgeist: An A-Z of Contemporary Australian Art by Melissa Loughnan.
From Australiana to Zeitgeist with Internet, Kitsch, and Xerox in between, this thematic book brings together the work of 78 Australian artists. Published by Thames & Hudson, the 272 page full colour text showcases a selection of artists from a range of disciplines and working across multiple mediums.
To purchase a copy of the book please visit australiana-to-zeitgeist.com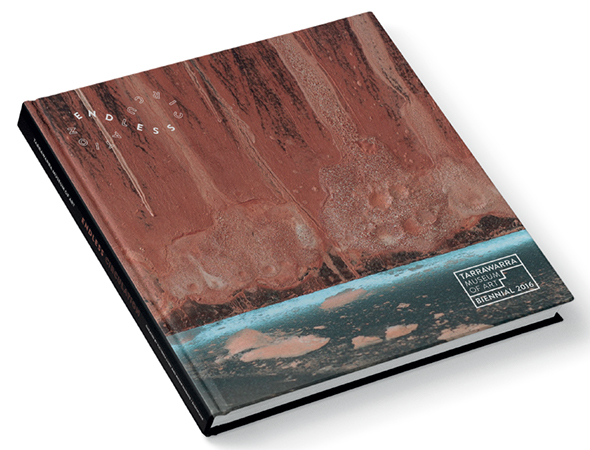 TARRAWARRA BIENNIAL 2016: ENDLESS CIRCULATION
Texts by:
Victoria Lynn
(Director, TarraWarra Museum of Art) and
Helen Hughes
(Research Curator, Monash University Museum of Art and editor of Discipline)
Biennials and magazines both take the form of an edition. They are continuous, one edition after another, but punctuated by pauses. As well as being additive or iterative, biennials and magazines produce contrasting modes of circulation. Where biennials typically bring artists and artworks from all around the world to one place for a designated period of time (a centripetal movement), magazines disperse—they (ideally) move away from their site of origin through postal systems, emails and downloads (a centrifugal movement).
The TarraWarra Biennial was inaugurated in 2006 as a platform for identifying new trends in contemporary Australian art through an experimental curatorial platform. The 2016 Biennial is a collaboration between TarraWarra Museum of Art and the Melbourne-based contemporary art journal, Discipline. Evolving from the structuring principles of the biennial and the serial publication format, the exhibition addresses forms of continuity and circulation, pauses and punctuations. It is alternately shaped by serial and cyclic rhythms—of production and exposure, hosts and dispersals, concentration and diffusion.
The exhibition brings together a range of works that explore continuity by bringing their past and future into the same frame, as well as projects that are predicated on their centrifugal circulation outside the parameters of traditional art spaces. Many works featured in the exhibition use these methods to unveil aspects of Australia's colonial history and its persistence in the present; others reveal the social, economic and political histories of their own making, or attempt to anticipate their future trajectories—travelling through the marketplace, gradually adapting to new contexts, or degrading over time.
The participating artists include 3-ply x Centre for Style, Monica's Gallery, Jessie Kiely ∞ Vernon Ah Kee ∞ Robert Andrew ∞ Janet Burchill and Jennifer McCamley ∞ Susan Cohn ∞ Sarah crowEST ∞ SaskiaDoherty ∞ Debris Facility ∞ Alicia Frankovich ∞ Newell Harry ∞ Bianca Hester ∞ Biljana Jancic ∞ Helen Johnson ∞ Julia McInerney ∞ Vincent Namatjira ∞ Ryan Presley ∞ Eugenia Raskopoulos ∞ Masato Takasaka ∞ James Tylor ∞ Wrong Solo (Brian Fuata and Agatha Gothe-Snape) ∞ Wukun Wanambi ∞ 4th/5th Melbourne Artist Facilitated Biennial (Christopher L G Hill, Nick Selenitsch, Lou Hubbard, Lewis Fidock, Endless Lonely Planet, Liam Osborne, Lisa Radford, Elizabeth Newman, Nicholas Tammens, Kate Meakin, George Egerton-Warburton, James Deutsher, Zac Segbedzi, Aurelia Guo, Rudi Williams, Alex Vivian, Lucina Lane, Lauren Burrow, Counterfeitnessfirst, Virginia Overell, Joshua Petherick, Laurel Doody, Tahi Moore, elp3 Vine, and more…)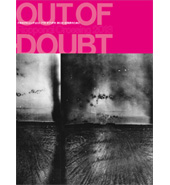 OUT OF DOUBT – Roppongi Crossing 2013
Texts by: Kataoka Mami (Chief Curator, Mori Art Museum), Reuben Keehan (Curator of Contemporary Asian Art, Queensland Art Gallery/ Gallery of Modern Art, Brisbane), Gabriel Ritter (The Nancy and Tim Hanley Assistant Curator of Contemporary Art, Dallas Museum of Art),  Miryam Sas (Professor, Comparitive Literature and Film & Media Studies, University of California, Berkley)
Size / Number of pages:  A4 variation (28.2×21cm) / 296 pages (TBC)
Languages:  Japanese-English bilingual
Price:  ¥2,940 (incl. tax, TBC)
Edited and Published by:  Mori Art Museum / Heibonsha Ltd., Publishers
Date of Issue: October 17, 2013
Inquiries: Mori Art Center Museum Shop
Tel: +81(0)3-6406-6118
Website:http://www.macmuseumshop.com/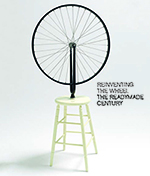 Reinventing the Wheel: the Readymade Century
128 pages, 60 colour images
Texts: Thierry de Duve, Rex Butler, Charlotte Day, Francis Parker, Patrice Sharkey
Artists: Carl Andre, Hany Armanious, Nairy Baghramian, Ian Burn, John Cage, Christo & Jeanne-Claude, Tony Cragg, Michael Craig-Martin, Martin Creed, Aleks Danko, Julian Dashper, Simon Denny, Marcel Duchamp, Sylvie Fleury, Ceal Floyer, Claire Fontaine, Gilbert & George, Félix González-Torres, Agatha Gothe-Snape, Greatest Hits, Matthew Griffin, Richard Hamilton, David Hammons, Matt Hinkley & Joshua Petherick, Lou Hubbard, Barry Humphries, Jeff Koons, Joseph Kosuth, Louise Lawler, Klara Lidén, Andrew Liversidge, James Lynch, Robert MacPherson, Callum Morton, John Nixon, Meret Oppenheim, Kain Picken & Rob McKenzie, Rosslynd Piggott, Man Ray, Scott Redford, Stuart Ringholt, Peter Saville, Charlie Sofo, Haim Steinbach, Ricky Swallow, Masato Takasaka, Peter Tyndall, Alex Vivian, Danh Vo, Andy Warhol, Heimo Zobernig.
ISBN: 978-0-9872952-9-3
$20.00

The Print Index 2012 – 2013
Gather and Fold Melbourne
Gather & Fold is a journal runs on a referral system between creatives of all disciplines. With a focus on Melbourne, Australia, G&F aims to provide an accurate snapshot of the art/design community – the relationships between emerging, outsider, unknown and celebrated designers, artists and creatives – through their connections of mutual admiration.
Leah Jackson —Stephanie Downey —Chris Hill —Jonathan Wallace —Dominic Hofstede —Paul Fuog —Ben Edwards and Juliet Moore —Ryan Russell and Byron George —Dianna Snape —Jessica Brent
Matt Hinkley —Warren Taylor —Yanni Florence —Liv Barrett —Fayen d'Evie —Masato Takasaka —Madeline Kidd —Meredith Turnbull —Nella Themelios
Oslo Davis —Alexander Stitt —Mimmo Cozzolino —Fysh Rutherford —Simon and Jenna Hipgrave
$23 AUD / £15 GBP
Free shipping worldwide
3-7 days Europe & UK
7-10 days US
7-14 days Australia & Asia Pacific
For multiple orders please emailhello@double-days.com
160 x 240mm
Soft cover perfect bound
132 pages
12 page foldout, 5 colour
120 page duotone
100% recycled stocks
First edition of 400
http://gatherandfold.com/book
 REGIMES OF VALUE
An exhibition over two venues curated by Elizabeth Gower investigating the appropriation of urban detritus as a contemporary art strategy.Featuring works by:
Lauren Berkowitz, Ryan Foote, Michael Georgetti, Elizabeth Gower, Nathan Gray, Lou Hubbard, Christopher Lg Hill, Matt Hinkley, Melanie Irwin, Ash Keating, Nicholas Mangan, Rowan Mcnaught, John Nixon, Louise Paramor, Simon Pericich, Joshua Petherick, Caroline Phillips, Elvis Richardson, Stuart Ringholt, Ilia Rosli, Julie Shiels, Slow Art Collective, Kate Smith, Charlie Sofo, Masato Takasaka, Alex VivianPublished by the Margaret Lawrence GalleryVictorian College of the ArtsThe University of MelbourneAuthors: Elizabeth Gower, Gillian WhiteleyPrinted in Australia by Monet PressText on 140 gsm Pacesetter Silk Art PaperCoverstock 300 gsm Pacesetter Offset BoardISBN 978-0-9872268-5-3To view the online catalog please visit this link: http://regimesofvalue.blogspot.com.au/
Dodecatalogue
Dodecatalogue was released concurrently with the exhibition Dodecahedron at Platform Contemporary Art Spaces in October 2012.Dodecahedron comprises the work of Damiano Bertoli, Zoe Croggon, Adam Cruickshank, Tony Garifilakis, Stuart Geddes, Agatha Gothe-Snape, Brad Haylock, Joshua Petherick, John Warwicker, Dexter Sinister, Oliver Van Der Lugt, Annie WuDodecatalogue features work from all the above artists and designers plus contributions from: Terri Bird, Nic Dowse, Nathan Gray, Christopher LG Hill, Spiros Panigirakis, Tom Polo, Dell Stewart, Masato Takasaka, Nat Thomas, Anna Varendorf.The price of this book will go towards the cost of its production.Dodecatalogue is A5, riso-printed, 92 pages, perfect bound and limited to 200 copies.Dodecatalogue is available on opening night or direct from: truebelief.bigcartel.com/
ALMOST EVERYTHING ALL AT ONCE, TWICE, THREE TIMES (IN FOUR PARTS…)
Gertrude Contemporary 02.02.12 – 10.03.12
Author: Carolyn Barnes
To order a copy of this book please email the Gallery Manager @ Gertrude Contemporaryhttp://www.gertrude.org.au/programs/publications/publications-27/masato-takasaka-almost-everything-all-at-once–twice–three-times-in-four-parts.phps
Hostings: OCULAR LAB 2003-10
Publisher: SurpllusEditors: Julie Davies & Brad Haylock
Design: Brad Haylock
Dimensions: 170 x 244mmExtent: 116pp + coverEdition: 600ISBN: 978-1-922099-00-6Year of publication: 2012Shipping weight: 222gRRP: AUD30.00 inc. GST (USD30.00 / EUR24.00)To order a copy of this catalog please email: info@surpllus.comhttp://www.surpllus.com/
New Psychedelia
SEAN BAILEY | BELLE BASSIN | GUY BENFIELD | CHRIS BENNIE | DAMIANO BERTOLI | MATT DABROWSKI AND THE MANY HANDS OF GLAMOUR | JAMES DEUTSHER | ANITA FONTAINE | DALE FRANK | BEN FROST | NATHAN GRAY | IRENE HANENBERGH | MATT HINKLEY | NATALYA HUGHES | BRENDAN HUNTLEY | TIM JOHNSON | MADELEINE KELLY | GEOFF KLEEM | TIM MAGUIRE | ROSS MANNING | DYLAN MARTORELL | LAITH MCGREGOR | ROY MCIVOR | TV MOORE | JOSHUA PETHERICK AND CHRISTOPHER L. G. HILL | NIKE SAVVAS | CARL SCRASE | NICK SELENITSCH | SANDRA SELIG | KATE SHAW | NOËL SKRZYPCZAK | BRENDAN SMITH | GEMMA SMITH | JOEL STERN AND WTEM | MASATO TAKASAKA | DARREN WARDLE | ROHAN WEALLEANS | JEMIMA WYMAN | JOHN YOUNG
This comprehensive exhibition catalogue explores why psychedelic ideas and aesthetics have such a strong resonance within contemporary art. The catalogue reproduces artworks from the 43 artists featured in the exhibition and has been designed in keeping with its psychedelic thematic.
Dr Mark Pennings provides an overview of psychedelic culture during the 1960s, from its emergence in psychiatric trials of hallucinogens to a broad cultural context, Dr Edward Colless makes links between 1960s psychedelic culture and the renewed interest today, and curator Sebastian Moody discusses the exhibition's rationale.
Foreword: Michele Helmrich, Senior Curator, The University of Queensland Art Museum
Design: Warren Taylor
120 pages, full colour, soft cover
ISBN: 9781742720027 (pbk)
Published by The University of Queensland Art Museum 2011
RRP $25.00 including GST
Order here:http://www.artmuseum.uq.edu.au/new-psychedelia-publication
Networks (cells & silos)
Monash University Museum of Art Exhibition Catalogue 2011
Curator: Geraldine Barlow72 pages, 44 colour reproductions
Artists: Chris Bond, Natalie Bookchin, Dorothy Braund, Heath Bunting, Mutlu Cerkez, John Dunkley-Smith, Mikala Dwyer, Gali Yalkarriwuy Gurruwiwi, Roger Kemp, Aaron Koblin, Hilarie Mais, Nick Mangan, Andrew McQualter, Jan Nelson, Kerrie Poliness, Koji Ryui, Sandra Selig, Bryan Spier, Masato Takasaka, Michelle Teran, Justin Trendall, Kit Wise, Tjaduwa WoodsTexts: Max Delany, Geraldine Barlow, Geert Lovink & Ned Rossiter, Annamaria TalasISBN: 978-0-9806451-8-7
$20.00
Order here:http://aireys.its.monash.edu.au/gen/product.asp?pID=185&cID=53
Index
Issue No. 1, September 2010
Melbourne, Australia
ISSN 1838-501X
Edition of 50
Participating Artists:
Justin Andrews, Andrew Barber, Stephen Bram, Lars Breuer, Sanne Bruggink, Christoph Dahlhausen, Matthew Deleget, Craig Easton, Anna Finlayson, Sebastian Freytag, Daniel Gottin, Jasper van der Graaf, Melinda Harper, Bianca Hester, Matt Hinkley, Clemens Hollerer, Kyle Jenkins, Gerard Kodde, Anne-Marie May, Guido Munch, John Nixon, Rose Nolan, Jan van der Ploeg, Kerrie Poliness, Sandra Selig, Gemma Smith, Masato Takasaka, David Thomas, Tilman, Peter Tyndall, Jan Maarten Voskuil, Thomas Wildner, Constanze Zikos
Cubism & Australian Art
Texts by: Lesley Harding and Sue Cramer
309 pages hardcover colour illustrations
| | |
| --- | --- |
| Publisher: | The Miegunyah Press |
| ISBN: | 052285673X |
| EAN: | 9780522856736 |
| Dimensions: | 22.1 x 22.35 x 3.3 centimeters |
Cubism was a movement that fundamentally changed the course of twentieth-century art. Cubism & Australian Art examines the impact of this transformative art movement on the work of Australian artists from the 1920s to the present day. Published in association with the exhibition at Heide Museum of Modern Art, this publication showcases the work of more than eighty international and Australian artists including SamAtyeo, Roger Kemp, Godfrey Miller, Grace Crowley and Masato Takasaka.http://catalogue.mup.com.au/978-0-522-85673-6.html
Walter Benjamin and the Architecture of Modernity
Andrew Benjamin and Charles Rice (eds.)ISBN: 9780980544022
eISBN: 9780980544091
RRP: $40 (AUD)
Format: 234×156 mm (6×9 in) Paperback
Pages: 224
Pub. Date: July 2009
Series: AnamnesisDownload book as PDF (Open Access)here at :http://re-press.org/books/walter-benjamin-and-the-architecture-of-modernity/

Masato Takasaka, Structural Jam
A3 exhibition poster designed by Warren Taylor, with text by Lisa Radford.
A3 (297mm x 420mm).
Offset, edition of 500, March 2007
Inquire about this item.
FREE SHIPPING WITHIN AUSTRALIA
$10 FLAT RATE WORLDWIDE
To order please visit this link: http://www.thenarrows.org/store/Structural_Jam_poster/

Selekta 2006
Catalogue to accompany West Space project Selekta 2006.Contributing artists:
Angela Brophy, Sanya Pahoki, Darren Sylvester, Matt Griffin, Susan Jacobs, Meredith Turnbull, Masato Takasaka, Peter Volich, Chris Hanrahan, Jessica Maurer, Eugenie Lee, Luke Sullivan, Ryoko Kato, Mark Neufeld, Leigh Bridges, Katarina Burin, Beth Arnold, Sary Zananiri, Vanessa David, Sanné Mestrom, Debra Ostrow, Hany Armanious, Zeljko Markov, Peter Van Der Mark, Kirsten Farrell, Anna Jacobs, Marc Alperstein, Amelie Scalercio, Emma Van Leest, Katie Jacobs, Miles Brown, Mina Young, Jane Kaljouw, Gabrielle BakerDesign:Warren Taylor, Grant Sparkes-Carroll, Sam Moffat
Art Direction:Warren TaylorA5, 72 pages, full colour offset.To order this publication please emailinfo@westspace.org.au

Office of Utopic Procedures
Introductory texts by: Brett Jones, Sean Loughrey, Tom Nicholson, Bernhard SachsThe project involved setting up a studio/workshop in the West Space gallery, in which people worked, facilitating a discussion and accumulation of material concerning the 'utopic'. The focus was on the presentation of material and the performative, the act of engagement. Sub-projects were initiated beforehand and presented in the space, and also generated over the duration of the exhibition.The structure of the Office of Utopic Procedures was consciously open, continuous, anti-hierarchical and unedited, with no obvious resolution, beginning or end – a discussion, a dialogue, a theatre of discourse, a theatre of the act. This publication includes a documentation of the space in action, a selection of communication streams and commissioned worksAmongst many other anonymous contributors, special projects are represented by texts and artist pages:John Abbate, Damiano Bertoli, Bridget Crone and Ruth McLennan, Annette Douglas and Josie Dujmovic, Katherine Huang, Sean Loughrey, Raafat Ishak, Rod McLeish, Vera Moeller, Tom Nicholson, No-one Is Illegal / Refugee Action Collective
Ocular Lab (Julie Davies and Alex Rizkalla, Larissa Hjorth, Sally Mannall, Paul Quinn), Bernhard Sachs, Masato Takasaka, Gary Wheeler, Work about Work (Arbeit ueber Arbeit, Berlin)
Publication design: Brad Haylock – New Ethic Media
The publication was awarded a Museums Australia Publication Design Award, 200311/2002. 176 pp, with colour plates, hard case bound.ISBN: 0 9585553 7 0To order this publication please emailinfo@westspace.org.au